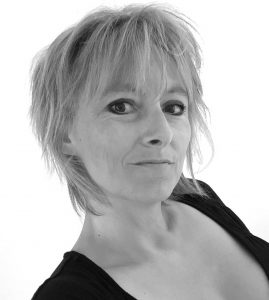 My academic qualification was conducted at the Nationale Graduate Art School of Limoges where  I achieved a higher technical certificate in my chosen speciality : « Creater modeler ». My work experience in the field of porcelain has been gained through training, conducted at the Carpenet Manufacture in Saint-Léonard-de-Noblat.
Passionate about art in all its forms – drawing, painting, sculpting and graving stone, I like to learn, discover and experiment with new artistic techniques.
In the forms I create, I am looking for innovation and daring. I like challenges offered to me and those I impose upon myself.
Most of my creations involve feminine appearance. I want to give the porcelain, the majectic white Lady, elegance and grace. I want particularly to explore its' flexibility and sensuality, to develop the elasticity and plasticity of this noble material, whose character capricious and fragile before firing becomes so majestic and so hard after being fired. I also like playing with the effects of material with engraving and creating the translucency of porcelain.
The creative collective Esprit Porcelaine is for me a «real laboratory of ideas », a space of exchange and openness where unbridled creativity is honoured.
I am one of nine artists selected for the International porcelain competition of Limoges city (2015-2016). I am currently working in Manufacture at La Seynie, LS Art & Design, on the project that earned me this selection : a porcelain sculpture of a stylized corset, mounted on a light metal structure which I entitled : the Body Knows (Le Corps Sait).