Cocoon milk pot
24,00€
Milk pot part of the Breakfast Cocoon series, inspired by the delicate lines of cocoons of silk caterpillars. Precious container composed of very fine threads, slightly shiny and resist.
Plate, oval, cocoon, small.
Dimensions (mm) : L 80* l 90* H120
Poids 160 g
Creator : Serena Ilari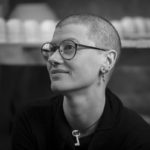 Description
Milk pot for hot or cold drinks in extra white porcelain.