Tea cup umbrella set
60,00€
Coffee cup inspired by an upturned umbrella, it is enamelled inside in transparent, leafy saucer, original Serena Ilari design. Key-shaped touillette.
The Umbrella series is a line inspired by the crazy world of "Alice in Wonderland", a place where a key can become a touillette, a leaf a saucer and an umbrella a cup!
Extra white porcelain, transparent enamel;
Creator : Serena Ilari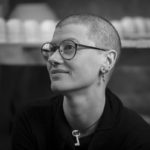 Description
Umbrella teacupset: white cup, saucer and touillette.