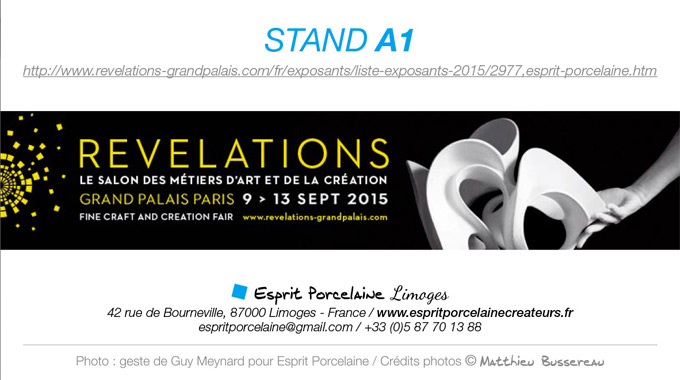 Salon Révélations | september 2015, Paris
ESPRIT PORCELAINE  is the collective name for a group of designerlmakers who produœ both contemporary and cutting-edge porœlain objects.
The artists, designers, craftspeople, ali share a passion for porcelain which aims to emu/ate the excellence and qua/ity of Umoges by adding an innovative and contemporary twist.
They   combine creativity, design and ceramics  to produce a rich meltlng  pot of concepts and ldeas   which contribute to keeping theUmoges tradition up-to-date.The objective is for the designer/makers to realise their own project in conjunction with the limitations of the materiel,and its industry, yet push the boundaries at the same time.
The association has created its own brand  •&prit Porcelaine, CINteutS à L.imoges• (TM) and has, in tum, participated in numerous national and international exhibitions and trade fairs gMng young designers the opportunity to create new work which sits very comfortably withln the international scene.